Assessment of Program Learning Outcomes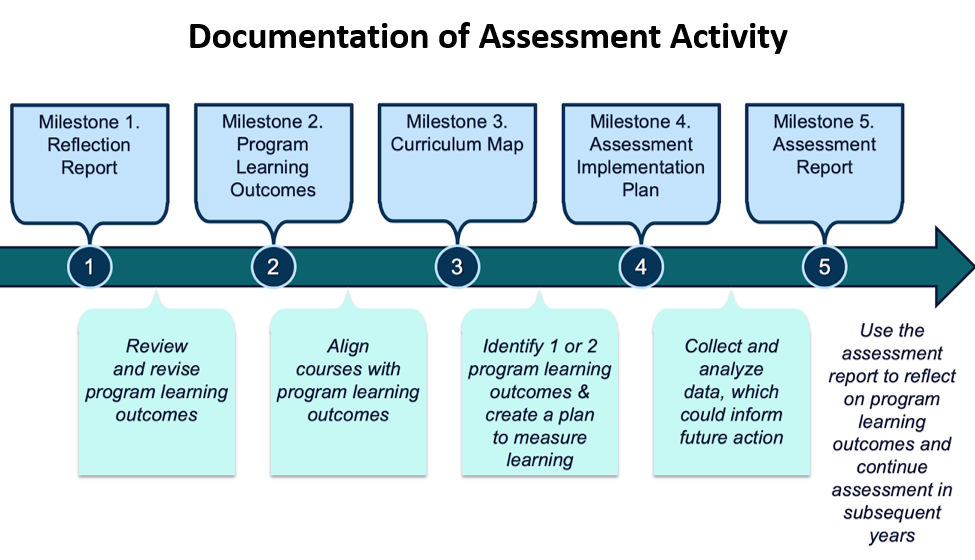 Program level assessment activities provide rich data that can confirm the efficacy of program design and inform strategic improvement of college, department or program design. A campus culture of assessment facilitates intellectual environments in which students can learn. 

The assessment of program learning outcomes is also an important aspect of our accreditation. UC San Diego is accredited by the regional accreditor "WASC Senior College and University Commission" (WSCUC). To learn more about the university's accreditation, visit https://accreditation.ucsd.edu/.
Assessment Milestones
The following milestones are included in the current program learning outcome assessment cycle:
| | | |
| --- | --- | --- |
| Milestone | Description | Deliverable |
|  1. Reflection Report | Review prior assessment activities and document lessons learned | |
|  2. Program Learning   Outcome Review and   Revision | Make data-informed adjustments to program learning outcomes | -- |
|  3. Curriculum Map | Clarify relationship between courses and program learning outcomes | Data Matrix, with Narrative Reflection (download the curriculum map template) |
|  4. Assessment   Implementation Plan | Determine how the program will measure student attainment and analyze results | Data Collection and Interpretation Plan (download implementation plan template) |
|  5. Assessment Report | Analysis of assessment data and artifacts, along with recommendations | Narrative and Statistical Report |
        Click below for more information about each milestone , deliverable, and submission details.